Dear Sir/Madam,
I am Ms. Li from Blue Ocean Group!
Thank you very much for inquiring about how to apply for Hong Kong company registration and bank account opening in Hong Kong.

In order to express our thanks to clients, Blue Ocean has launched a special package: Hong Kong company registration + SCR filing + Hong Kong bank account opening.

Advantages of Registering a Hong Kong Company

Freedom of naming company:
freely select the name when registering the Hong Kong company

Less restrictions:
very few restrictions on business scope of Hong Kong companies, facilitating entrepreneurs to operate a variety of businesses

Low tax rate:
ordinary companies have fewer taxes and lower tax rates, good for reasonable tax avoidance

Capitals do not need to be in place:
the registered capital for Hong Kong companies is low, which is suitable for entrepreneurs to start a business.

High efficiency:
generally you can successfully register a Hong Kong company and open an account within 8-10 working days

International framework:
Hong Kong companies are an important part of the corporate international framework, obviously can serve as the window

Trademark registration is easy:
Easy to create a Hong Kong brand; registering a Hong Kong trademark with the shortest time around the world

Immigration advantage:
The loose immigration policy facilitates overseas investors to live and work in Hong Kong and to do business.

1. Conditions, procedures, fees and required documents for HK company registration

(1) Conditions for HK company registration
① One or more directors and shareholders who must be at least 18 years of age
② A Chinese ID card or passport
③ A registered address in Hong Kong (Our company can provide)
④ Has a Hong Kong Permanent Resident or an authorized Hong Kong company as the company's statutory secretary
⑤ Time required to register a Hong Kong company - about 6-10 working days

(2) Documents Required to Register a HK Company
① Chinese and English names, registered capital, directors and shareholders, and share allocation ratio of the registered company.
② Copy of ID cards or passports of all shareholders and directors.
③ Incorporation Form (NNC1 form) signed by all directors and shareholders of the company.
④ Power of Attorney and Agreement signed for Hong Kong company registration.
⑤ Registered company address (Our company can provide)
⑥ A copy of ID card of the company's statutory secretary. If the secretary is a company, provide a copy of the registration certificate and business registration certificate (Our company provides)

(3) Procedures for Hong Kong Company Registration
The following are the documents required and procedures for registration (Please note the attached documents for details):
① You need to provide a copy of your ID card / passport, company name, registered capital, shareholder and share allocation ratio (check the Power of Attorney in the attachment);
② Fill in the Power of Attorney, and we will prepare the related documents of the company according to the Power of Attorney; (You can send me the name of your company to be registered to help you check; then fill out the Power of Attorney and send it to me)
③ You sign the statutory documents (You can come to our company for signing, or send it to us after signing);
④ You make down payment;
⑤ Our company submits documents to the government;
⑥ The government's approval needs about 5 working days and they issue the certificates;
⑦ You pay the rest and get a full set of documents (The green box can be sent directly to your designated location)

(4)Fees for Hong Kong Company Registration
Hong Kong company registration+ SCR filing + arranging appointment for Hong Kong bank account opening fee list is as follows: (from March 1, 2018)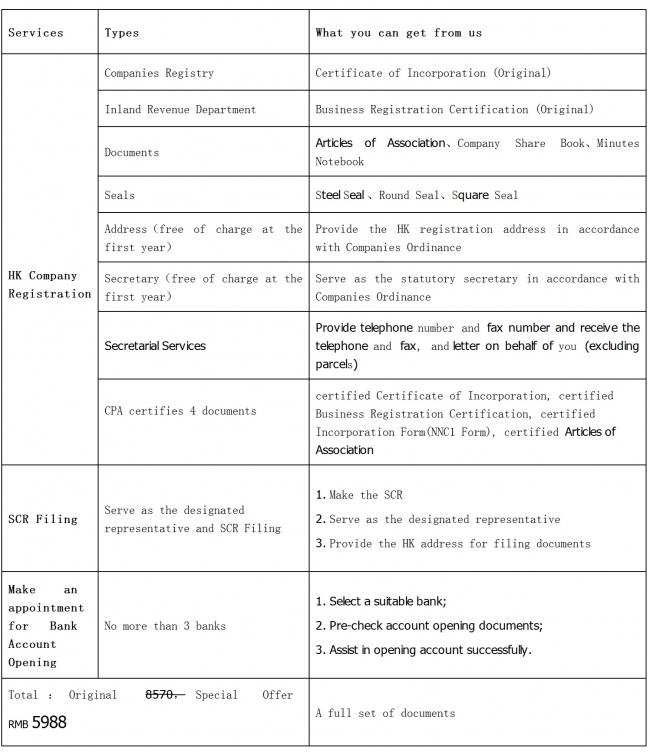 2. Keeping Significant Controllers Register(ie SCR Filing)
(1) After registering a Hong Kong company, you need to keep Significant Controllers Register! (ie SCR filing)
Hong Kong has amended and published the Companies Ordinance: since March 1, 2018, the company is required to keep the Significant Controllers Register, that is, a company incorporated in Hong Kong must obtain and maintain up-to-date beneficial ownership information, identify and confirm those who have significant control over it and keep a Significant Controllers Register for inspection by law enforcement officers. Applicable companies must appoint at least one representative to provide law enforcement officers with assistance in connection with the register.

The identity of the representative only needs to meet one of the following conditions:
① A company member, director or employee, who is a natural person residing in Hong Kong;
② An accountant or legal professional or "trust or company service provider" licensee registered in Hong Kong .

(2) Services provided by the Blue Ocean:
① Make Significant Controllers Register
② As the designated representative (except for Hong Kong directors, only Hong Kong CPA/ lawyer/ "trust or company service provider" licensee can act as designated representative)
③ Provide Hong Kong address for keeping documents

3. Assisting in opening a Hong Kong bank account
In recent years, the requirements for opening bank accounts in Hong Kong have become stricter and it has become increasingly difficult for clients to open accounts.

In order to provide professional and high-quality services to clients, Blue Ocean has established a team of bank account opening. Now BOB has established close cooperation with many local HK banks and overseas banks in the world to ensure the successful bank account opening !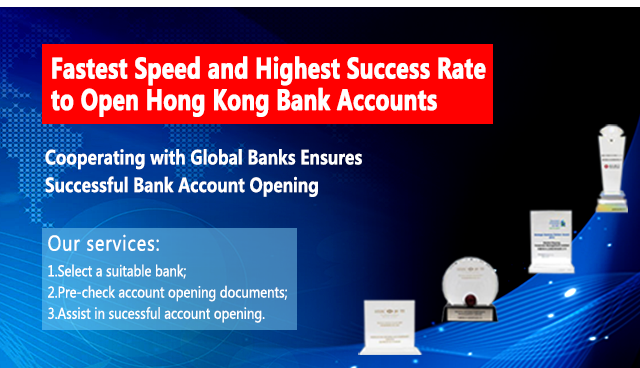 (1)Our services:
① Select a suitable bank;
② Pre-check account opening documents;
③ Assist in opening account successfully.

(2) Documents required for bank account opening in Hong Kong, include:
① Certificate of Registration for Hong Kong company (if company name had a change, you need to provide the new Certificate of Registration and NC2 form for the renamed company)
② Business Registration Certificate for Hong Kong company (the latest)
③ NNC1 form or last year Annual Return (NAR1 form)

④ The original ID of the shareholder of the company with more than 10% of the shares (ID card + Valid Exit-Entry Permit (EEP) to HK / Macau or passport)
⑤ Personal address proof (water/electricity/gas bills or driver's license, residence permit for the past 3 months)
⑥ Corporate seal for banking

⑦ Articles of association
⑧ Business card of the company's shareholders
⑨ Business documents of the company's shareholders (sales contract/ agreement/ invoice/ purchase order / customs declaration, etc.)

⑩ Company Business Plan (required by Hang Seng Bank and HSBC)
⑪ Pre-deposit of account opening (HSBC and Hang Seng 50,000 Hong Kong dollars, other banks 10,000-40,000 Hong Kong dollars)

⑫ Other documents (The following items are supplementary materials. If any, please provide the more detailed information)
1) Documents and materials of the related company: business license of the company that the shareholder is related with , the bank statement of the related company for the past six months, and the financial statements (as far as possible to provide information on the related companies that have been established for a long time; if the shareholders are only one of the shareholders of the related company, not legal representative, please provide proof of share).
2) Proof of business: At least three sets of proofs of recent shipments to customers (eg commercial invoices / sales contracts + bills of lading / customs declaration / shipping order); products brochure (provide company profile or company brochure).
3) Proof of property ownership of shareholder (if the property is not under the name of the shareholder, please provide proof of the relationship between the shareholder and the owner of the property, such as: marriage certificate, household register, etc.).
4) Bank statement of shareholders (bank statement in the last 6 months).